Maximize ROI on Your Existing IoT Contracts: Discover the BYOO Approach by Simplex Wireless
June 12, 2023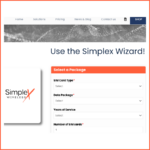 Simplex Prepaid Wizard for IoT data plans
August 28, 2023
Which Radio Technology to use for IoT projects in 2023
An Article by Raimo Järvenpää, Chief Product Officer, Simplex Wireless.
If you are in the beginning of your IoT productization journey or evaluation new options for existing products, here are some insights for doing the right choices meeting your connectivity needs looking into different Low Powered Wide Area (LPWA) network technologies and Wireless Wide Area Networks (WWAN). We have written this article to help you navigate the question "What is the best IoT connectivity technology MY project should use?". There are a lot of variables, and you will pick your best connectivity offering based on what is important to you. In order to narrow it down we have selected the following key questions that you will need to review to know:
Global-Local – will my solution be deployed within my country or multiple countries
Public-Private – is my solution available on public networks on private ones
Mobile-Fixed – will the solution I have be mobile or will it stay in a fixed location
Battery-Cable powered – how will my device be powered
High-Low bandwidth – will my solution be using a lot of data
OTA – Local management – do I manage the device remotely or will I have physical access to it
Others
There are others as well (availability, integration, price, security…) but these would be considered the priority ones. These parameters are then intertwined with the result in a matrix of selected measures; bandwidth-power save-reach-scalability-cost-effort-adaptation to help visualize your choices.
As the Radio Technologies cover both licensed and unlicensed you will surely find a good choice for your needs. Examples of referenced licensed Radio Access Technologies – RAT's: 5G, 4G (LTE-M, NB-IoT), 3G, 2G and unlicensed RAT's: LoRa, Sigfox, Zigbee, Wi-Fi and BTLE. Yes, there are many other proprietary and new unlicensed RAT's, but we'll leave those for your own studies.
Global vs. Local – Reach, Scalability, Cost
Question is really about the intended use and deployment of you IoT solution. If you only plan to deploy in a fixed location or areas (building> town>country) thus you should consider your needs being local. If your solution is deployed or used in various locations.
Licensed and some Un-Licensed networks operate on different Frequencies / Bands in different part of the world. Licensed technologies are developed with interoperability and roaming capabilities, but you need to consider what technologies and band configuration your device supports to maximize global footprint when designing for global deployments.
Public vs Private – Adaptation, Effort, Reach, Scalability, Cost
You can opt in to use commercial publicly available networks and services or take the route of either using a private or create your own private network. The differences are in the size, reach, access, ease of use, cost and security in the different networks and their deployment.
Typical option are the commercial cellular networks provide by the MNO/MVNO/CSP's, cellular networks can also be deployed as private LTE/5G networks with small base station and relevant backhauls. Examples of these private networks are factory / corporate campuses hosting the IoT devices / user devices on a local private network for local breakout, privacy, and interconnectivity purposes. Achieved benefits vs. the cost and effort of operating needs to be carefully evaluated.
More typical private deployments (intrabuilding) use short range radios like Zigbee, BTLE or LoRa, where the devices typically sensors connect to a gateway with short range radio or connect to each other in a MESH network, but the gateway itself is connected to the service/internet over wired connection or cellular radio. Wi-Fi networks fall into this category as well.
Some regions have commercially available non cellular radio networks like Sigfox that can be considered public, as can be satellite connections.
There are several options to go with but without doubt the largest and most popular one is public cellular networks, as they provide a reliable, widespread, easy, and affordable access for all major use cases.
Mobile vs. Fixed – Reach, Scalability, Effort, Cost
Is the device going to be permanently fixed to the installation site or is the device completely mobile? Or is it somewhere between those lines.
Do you have shipments of the same product SKU to different markets, or could the device be redeployed during the lifecycle of it? Making sure the selected RAT and the supporting technologies for it are in place to support you through the journey are time worth spending, especially considering the logistics and operations savings that can be achieved. As an example, you would think an AC unit only needs fixed access with Wi-Fi or some other short-range tech to connect to the home automation system. Yes, that is true but if the diagnostics and troubleshooting should need to be tunneled separately to the manufacture setting up a separate access is not that trivial, and managing the device get an dedicated access in several location or several countries start to demand access to local public network which then is resulting in having a cellular access that can adapt and connect automatically to the local available networks.
Obviously mobile use cases like a tracking device can only be handled with technologies and standards that are designed with that use case in mind from day one, supporting it natively. But more and more the mobile technologies are used in permanent device installments replacing previous wired connections due to simplicity it brings.
Battery vs. Cable powered – Powersave
Continuing the mobility aspect from previous chapter. One sub question of mobility is if the device is battery powered i.e., if the radio technology needs to be selected with power saving capabilities in mind.
It doesn't mean a fixed installation could not have this requirement as well. A fixed installation doesn't necessary mean they are or could be cable powered as well for example it could be water well level meter in the middle of nowhere.
Some radio technologies have been developed with power saving capabilities in mind so that sensors can be self-sufficient for a long period of time before needing being serviced. You can say that the unlicensed technologies are better in battery performance than the licensed ones in the order written.
Unlicensed technologies; BTLE, ZigBee, Sigfox and LoRa.
Licensed; NB-IoT and LTE-M.
The next chapter cover the other key decision point being the bandwidth, the other characteristics of the QoS, range, latency, cost efficiency are other important factors. The use case and application specialties are so important to factor in for final decision or recommendation. Even knowing that NB-IoT is better for power saving in ideal condition our recommendation based on compatibility and other knowledge is LTE-M waying in the pros and cons.
High vs. Low bandwidth – Bandwidth
Sensors and other dummy IoT clients don't use and need a lot of data to be stored and transmitted, but on the other hand you may have changing bandwidth requirement from 'low' a camera sending a cropped monochrome picture to 'high' when starting to stream video in full resolution. You should also consider possible SW/ Firmware updates of the devices during the lifecycle so even though the payload is typically small it can be peaking occasionally, this doesn't necessary mean higher bandwidth but more data. Typically, the driving factor for low bandwidth is the need for power save. Optimizing it solely with the current use case data consumption in mind, may prevent you in the future and require physical device upgrades if changing use cases so require. Theoretical maximum speeds are theoretical. Device location, device performance, network optimization and congestion, affect the actual throughput significantly, thus make sure your use case can be achieved with a fraction of the theoretical bandwidth.
OTA vs Local Management – Effort
What is meant by this is whether you can and would like to manage all your device assets, from your office over the air remotely or if you need to do a truck roll or recalls for the management of the deployments. It starts from the manufacturing floor of the device, from the initial installment and all the way to the end of life of the device.
OTA has great benefits due the scale and cost effectiveness it brings, you need to design and implement towards OTA to achieve the benefits. Not all devices can be designed in this manner and physical installment and configurations are the only option.
Other (availability, integration, price, security) – Adaptation, Cost, Scalability
Standard vs. proprietary explains the availability and sourcing question. Standards have wide number of commercial applications and many OEM's working on them making devices/modules/radios widely available and as well competition makes sure those are priced right. That is not always the case with proprietary/unlicensed solutions.
Standards and GSMA compliancy is very important as proprietary solutions cannot be validated as industry standards are validated for data protection, data security and device compatibility purposes.
Device and subscription management can be optimized, and several different technologies can be integrated if the underlying technology has the enablers and building block like APIs to make this possible.
Conclusion
See attached chart that has the referenced technologies weighted with the selected measures.
Some IoT devices like sensors would become too costly and would not meet the size and operability performance needs, with licensed RAT's. Thus, the shortrange radio technologies like ZigBee meet those criteria best.
LTE-M and NB-IoT are important for IoT because they can provide low power, low network latency, low bandwidth which is a requirement for some IoT use cases. LTE-M and NB-IoT are though not supported globally everywhere thus 3G and LTE are still mainstream, with the remainder that many countries and operators are sunsetting 2G and 3G RAN's while freeing these frequencies for 5G. LTE and LTE-M is our recommendation for the choice of the primary RAT as it works in a very wide application area.
Connectivity is a key component for IoT solutions, and its role is becoming ever more important. This has been highlighted by the arrival of 5G, which will be deployed globally over the next few years to meet growing demand. However, it's not just faster speeds that will make this possible; high data capacity and low latency are also vital requirements if businesses want to be successful in their endeavors with Internet of Things technology. Technology is one of the key selections criteria's for selecting a certain IoT Connectivity solution, but more important is actually how the technology is offered to you and what it does for you. Let us know if you want to discuss and learn more what we as Simplex can offer.
This article was written by Raimo Järvenpää, Chief Product Officer, Simplex Wireless.