MWC Americas 2023 in Las Vegas
September 6, 2023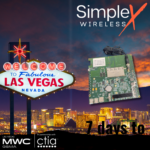 MWC Las Vegas demonstration
September 18, 2023
Simplex Wireless will get on the stage at the largest Telecom Tradeshow in the Americas to present their viewpoints on where eSIM technology is going.
Jan Lattunen our Chief Commercial Officer and our SIM and eSIM expert is getting on the stage in Mobile World Congress Las Vegas (#MWC2023) to talk about how the new IoT specification SGP.32 will change the usage of eSIM in IoT.
Jan will present together with Sam Brown, Business Development Manager from VALID to showcase the demonstration the companies have come together to show case an agricultural showcase with eSIM technology. This is a great opportunity to listen in from industry experts the revolutionary new eSIM specification and how it can be used to gain lock-in liberty for your IoT devices.
To read more about the keynote session: https://www.mwclasvegas.com/agenda/session/5g-iot-summit