No more plug-in SIM card on the Apple iPhone 14, why did they remove it and what impacts does it have?
September 8, 2022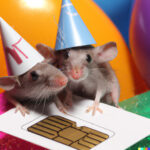 Simplex Wireless adds downloadable eSIM to the webstore as a trial kit.
October 4, 2022
At Simplex we take something complex and making it simple => Simplex
Our mission statement is the base and foundation of what we are set out to do – to simplify the adaptation of cellular device connectivity for anyone anything anywhere.
Our philosophy is not to do this by introducing new technology but to use the best of breed and market leading solutions in a user-friendly way. We are providing that flexible layer on top of the stable giants. Through us, you get the highest quality and service availability components from the leading tier 1 mobile operators, wrapped in an attractive commercial framework.
We are putting ourselves in the role of the Enterprise – how would we have built it if we were the expert employees working at the "Procurement/IT/R&D/Product development department" for a global Enterprise?
1) Take care of what you already have. This means to improve management overview of existing subscriptions and optimize invoices from current suppliers. We support this through our Bring Your Own Operator (BYOO) service that is a built-in feature to our subscription management portal.
You don't have to leave everything behind and start over with something new. Bring everything you have with you, add new subscriptions from new service providers under a unified management interface with optimization capabilities. As of today we support 105 Mobile Operators from all corners of the world to be imported.
2) Build for the future. Avoid lock-in and look at implementing and supporting eSIM management for the next device release. We have made the investments in all essential platforms and have the expertise needed to operate and make it work. The industry has not made it easy to enable the capability – to over the air, switch mobile operator profiles but we are making it Simplex for the Enterprise.
As an independent Managed Service provider, we bring the eSIM feature and all components needed to the Enterprise.
3) Secure best price for future subscriptions. This goes without saying. We take away the barrier to entry into a cooperation. We support a high-level degree of flexibility and agile adaptations along the journey together. Through us, you will get the combined best possible service the market can offer without additional cost on top.
Reach out to us and we will tell you more!
Best regards,
Oscar Falkman
COO Simplex Wireless