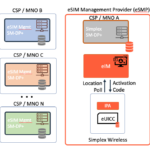 Get the Inside Scoop: Introducing the new eSIM Management Provider (eSMP) for IoT with SGP.32
May 23, 2023
I just need an IoT SIM card to get started: A Comprehensive Guide
June 10, 2023
While eSIM is already present within IoT devices there is still has some way to go in order for it to become as common as it is with consumer devices. The main driver for that in the IoT device and solutions makers is to have the ability to change the Connectivity Services Provider (CSP) remotely without having to do an expensive truck roll. Having to do a truck roll and doing a physical SIM swap on tens of thousands of devices in the field can be cost prohibitive and will leave you trapped with your existing contracts.
Simplex Wireless offers eSIM for IoT and we often run into companies that just desire to have "eSIM on their device" and then they are good to go, right? Yes and No.
eSIM Terminology
The key point with eSIM is to understand the full picture giving insight into avoiding being lock in. Before we get into the weeds let's make sure that we are on the same page on the terms of eSIM technology. This is how we call things at Simplex Wireless to be able to follow the article.
Components that make eSIM technology
By pointing out the naming scheme also shows that there are many components that make the eSIM solution.
eUICC is the Secure Element in the device. It can be any form factor from Embedded MFFF2 to a Plugin 2FF / 3FF / 4FF.
eSIM is the electronic SIM card or Network Profile as GSMA calls it. This is the component that gets downloaded Over-The-Air to the eUICC.
SM-DP+ is the server that stores the eSIM profiles. Note that in the M2M specifications (SGP.02) there is also a SM-SR
IPA or LPA IoT Profile Assistant (SGP.32) or Local Profile Assistant (SGP.22) is a software client on the device (or eUICC) that manages the profile download and installation
eIM eSIM IoT Manager (SGP.32) is the server that manages the profile download in the eSIM for IoT specification.
eSIM Technologies
The next important thing to pay attention is that there are now three eSIM technologies on the market.
M2M eSIM Specification (SGP.02) is the legacy eSIM specification which has been widely deployed especially in the automotive segment.
Consumer eSIM Specification (SGP.22) is the specification used by consumer devices such as the Apple iPhone and iPAD, Google Pixels or Samsung Galaxy series.
IoT eSIM Specification (SGP.32) is the specification that is made to IoT devices. It was released May 26th 2023 and will be adoption 2nd half of 2023 and into 2024 forward.
Key items when selecting eSIM for your IoT project.
Now that we have explained the components of eSIM and the different technologies it should be clear that when you make your next IoT Project it is not enough "just to make sure the device has an eSIM".
The key components you have to look into
What eUICC is on the module or device? Is it SGP.02, SGP.22 or SGP.32?
When a device claims eSIM support, what does it really support? Does it support BIP command for M2M eSIM or does it have an LPA or IPA implemented on it for Consumer or IoT eSIM support?
Make sure to have your device and your service provider aligned.
Since eSIM technology is a Client-Server structure you cannot start your project with just having eSIM support on the device without having your Connectivity Service Provider (CSP/MNO/MVNO) having the equivalent support. You need to ensure that the device you are picking is being supported by your Connectivity Service Provider.
It is important to understand technically how do you switch your CSP from the existing one to a new one.
In M2M eSIM you have to do an SM-SR swap. The eUICC has to be updated with a new SM-SR address and the eSIM data has to be transferred from initial SM-DP/SM-SR combination to a new one. This is typically a very complicated and complex process.
In Consumer eSIM the LPA needs to fetch a new eSIM from an SM-DP+ server. The key question is "how do I remotely trigger the LPA to get the new eSIM"
In IoT eSIM it is built in by issuing eSIM swaps through the eIM server.
To avoid the carrier lock in you will need to ensure that your device eSIM technology is compatible with your CSPs eSIM technology. In addition to this you need to ensure your CSP is willing and able to do a eSIM swap with the agreed upon commercial framework for example a one-time cost to swap the device.
The Good News for IoT devices and freedom of selection
Coming up with the new Specification there will be a separation of Connectivity Service Provider (CSP) and eSIM Management Provider (eSMP). This will open a new venue to avoid "CSP lock-in" by having an independent provider managing your IoT devices eSIMs.
As a final comment we can say that with the release of the new IoT eSIM specs we believe the market will consolidate into that one spec. This will take likely years rather than months because of devices, CSP and eSMP's will have to update their infrastructure.
We hope you have found this article useful when navigating the world of eSIM. We at Simplex Wireless always happy to talk about your eSIM projects, drop us a note on the website and let's chat!
This article was written by Jan Lattunen, Simplex Wireless.