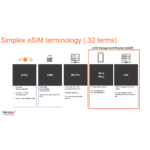 How to avoid carrier lock-in for your IoT devices using eSIM technology? A beginner's guide to freedom with eSIM
June 7, 2023
Maximize ROI on Your Existing IoT Contracts: Discover the BYOO Approach by Simplex Wireless
June 12, 2023
I just need an IoT SIM card to get started: A Comprehensive Guide
The Internet of Things (IoT) is a rapidly expanding field that has significantly transformed the way businesses and consumers interact with the world around them. IoT applications range from smart homes and wearables to industrial applications, including fleet management and remote monitoring. A crucial component enabling these devices to connect to the internet and each other is the IoT SIM card. If you're looking to acquire an IoT SIM card, this article will guide you through the process and the critical considerations along the way.
What is an IoT SIM Card?
Before we delve into how you can get started, it's essential to understand what an IoT SIM card is. Similar to a regular SIM card you use in your mobile phone, an IoT SIM card allows IoT devices to communicate over cellular networks. However, IoT SIM cards are designed to cater to the unique needs of IoT applications, which can range from transmitting tiny bits of data intermittently to transferring large amounts of data continuously.
Step 1: Identifying Your Requirements
The first step towards acquiring an IoT SIM card is identifying your requirements. Factors you need to consider include:
Data Usage: The amount of data your IoT devices will use depends on their application. For instance, a sensor that only transmits temperature readings every few hours will consume much less data than a surveillance camera sending live video feeds.
Geographic Location: Will your IoT devices be located in one specific region or spread out globally? Some IoT SIM cards are designed to work globally, enabling IoT devices to connect to the internet anywhere in the world.
Number of Devices: The number of IoT devices you plan to deploy will influence your choice of IoT SIM card and data plan.
Step 2: Choosing the Right IoT SIM Card Provider
Once you have identified your requirements, the next step is to choose an IoT SIM card provider that best meets those needs. When evaluating potential providers, consider factors such as coverage, cost, scalability, and customer support.
Coverage: Ensure the provider offers robust coverage in the geographic areas where your IoT devices will be located.
Cost: Understand the pricing structure. Will a Pay-As-You-G or flexible pool bundle be the best choice for you? Or maybe a pre-paid package? Make sure to pick a plan that aligns with your data usage requirements.
Scalability: Your provider should be able to scale up or down as your needs change. If you anticipate growth in the number of IoT devices, ensure your chosen provider can comfortably accommodate this but also give you the support you need to get started at lower volumes.
Customer Support: Excellent customer support can be invaluable, especially if you're new to IoT or if your application is critical and can't afford downtime. How responsive is your contact person at the supplier? Are you getting answers to your questions in a speedy fashion or does it feel like you´re not getting any attention?
Step 3: Activating Your IoT SIM Card
Once you have purchased your IoT SIM cards from your chosen provider, the next step is activation. The process will typically involve inserting the SIM card into your IoT device or downloading a QR code if you are using eSIMs/eUICCs. Oftentimes you will need to configure the correct APN into the device. What APN you shall use is information given by the provider.
Step 4: Managing Your IoT SIM Cards
After activation, ongoing management of your IoT SIM cards is crucial. Most IoT SIM card providers offer a management platform where you can monitor data usage, control connectivity, and manage costs. It's essential to keep a close eye on your IoT SIM cards' performance and adjust as necessary.
In conclusion, obtaining and setting up an IoT SIM card involves a careful analysis of your requirements, selecting the right provider, activating the SIM card, and ongoing management.
By following these steps, you can ensure your IoT devices stay connected and perform their intended functions effectively and efficiently. As the field of IoT continues to grow and evolve, IoT SIM cards will continue to play an instrumental role in enabling this connectivity.
At Simplex Wireless we have designed all our processes and tools around making this as effortless as possible and make sure you get a great start!