PRESS RELEASE. VALID, Simplex and Globalscale
September 25, 2023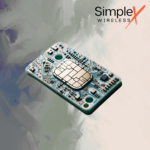 The Future of Connectivity: Unveiling the IoT SIM Card
October 17, 2023
How to add eSIM support to your device
"What do I need to do to get eSIM enabled on my IoT device?" This is something we get asked very often. With the rising popularity of eSIM technology, many are seeking ways to integrate it into their IoT devices. eSIM offers the advantage of carrier flexibility without the need to physically change SIM cards. Here's a step-by-step guide to help you achieve this:
Understanding eSIM Specifications
eSIM for IoT (SGP.32): This is the latest specification and is expected to become the industry standard.
Other Specifications: eSIM M2M (SGP.02) and Consumer Specification (SGP.22) are older versions and might soon be obsolete.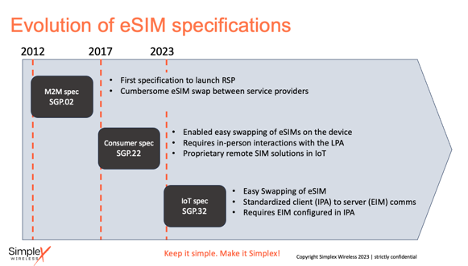 Based on the new eSIM for IoT specification (SGP.32) we will focus on this.
Components for eSIM Integration
eSIM IoT Components: Divided into server-side and device-side components.
Device Requirements:

Ensure the device has eUICC (SIM hardware, either embedded or plug-in).
Install the IPA software for eSIM functionality. This can be on the device's OS (IPA.d) or on the eUICC (IPA.e).
As a Device Maker or OEM you will need to make sure that your device has the eUICC (SIM hardware either embedded or plug-in) and the IPA software to enable eSIM functionality on your device. The IPA (IoT Profile Assistant) can reside on the operating system layer on the device and then it is called IPA.d, it can also reside on the SIM card or eUICC in which case it is called IPA.e. These are the only components a device maker needs to have.
The IPA needs to have a default EIM configured to which it goes and fetches commands on which eSIM to load on the eUICC. The EIM can be provided by the Connectivity Service Provider or from an independent eSIM Service Management Provider (eSMP) such as Simplex Wireless.
The SM-DP+ is the eSIM Management Server where eSIMs reside. This will come as a service from the Connectivity Service Provider such as Simplex Wireless.
Options for eSIM Integration
Option 1.
A SIM card that supports eSIM (eUICC) in any Form Factor plugin (2FF, 3FF, 4FF) or embedded (MFF2)
An IPA software running on your device (IPA.d)
Option 2:
A SIM card that supports eSIM (eUICC) in any Form Factor plugin (2FF, 3FF, 4FF) or embedded (MFF2)
SIM card (eUICC) that has the IPA.e software running on it.

In this case the device needs to support the BIP command so that the eUICC is able to open an TCP/IP session towards the server

In this case you do not need to have any additional software on your device.
Conclusion
Simplex Wireless is an independent Connectivity Service Provider (SM-DP+ with eSIMs) and eSIM Service Management Provider (eSMP with EIM). If you need your project eSIM enabled in a simple way, you need to talk to us.
Keep it simple, make it Simplex.