Unlocking Connectivity with IoT Data Plan, IoT SIM Card, and eSIM Technology
October 24, 2023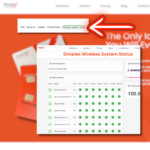 Elevating Transparency with Online Systems Status page
November 7, 2023
Are into the world of Cellular enabled IoT? If you are, you have likely come across eSIM before. Maybe you have even stumbled upon articles about the new 2023 specification of eSIM SGP.32. It is the first time the industry tailored the specification to IoT devices with all sides in mind. These are devices that have limited battery life, processing power and many times are headless.
What was new in this specification is how they took into account small and medium size IoT companies and their limited resources. While the legacy M2M eSIM spec (SGP.02) had the control on the server side with the SM-SR and the Consumer eSIM spec (SGP.22) had the control on the device application with the LPA the new eSIM for IoT spec (SGP.32) has allowed the control to be in the SIM card (eUICC) with the IoT Profile Assistant (IPA.e). This is a game changer.
Why is it important to now have the control point IPA on the SIM card? This allows a very simple implementation of eSIM support for an IoT device. You just need to put in a SIM card with IPA on it to a device and it can be remotely managed. There's a small "gotcha" as to do the eSIM Management Session the IPA needs to have a TCP/IP session towards the servers and the only way to do this is that the SIM card will issue a BIP STK command towards the Modem. The good news with this is that the BIP STK specification came out in 2000 so there has been plenty of time for modem and device makers to implement the support for it and in addition the M2M eSIM specification used the same methodology. It will be likely that the device you are working on supports it.
The tl;dr version is; find a SIM card with an IPA.e on it and your off to the races!
But wait, while it's completely accurate that it is that easy to enable your device with eSIM support you still will need to have a server where the business logic is controlled from. The server is this ecosystem is called an EIM. When you purchase your IPA.e enabled SIM cards you will have to configure an EIM address to the SIM card so that it works properly. You can look for a Connectivity Service Provider that offers that or then an eSIM Service Management (eSMP) provider.
We hope you found this howto article helpful for you and with Simplex Wireless we are able to provide all the services mentioned above. You can reach out to us from our website!
This article was written by Jan Lattunen, Simplex Wireless